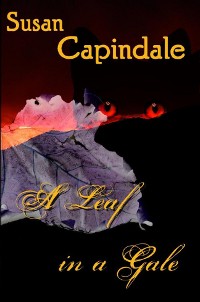 This book has been completed and is available for sale on Amazon as a paperback or as a Kindle Edition.
It is the debut book by Susan Capindale and is called "A Leaf in a Gale".
The Witch hunt begins. The year is 1587. Donald and his preternatural companion Otto arrive at Triora, a village in the Ligurian hinterland, where the people are living in fear and turmoil following the arrival of the Commissario. "I will show you many lifetimes" Otto guides Donald through times past. This journey takes them to a village trapped in a cold bleak winter and buffeted by the elements both temporal and spiritual. The people having rejected the over zealous approach of Vicar General del Pozzo, the bishop dispatches Commissario Scribani to root out the evil of the witches of Triora once and for all.
This is the first book in the Ponente series of stories, revisiting the history of this old and fascinating area. The author has lived for many years in the Maritime Alps and San Remo.
Book design:
Front and Back Cover Design by Lincoln Phipps (Open Mutual Ltd for Life Sign Press)
Fonts used with teh printed edition and covers are – Main body text is 13pt GaramondNo8, Chapter Titles are 16pt Gentium Book Basic Bold (italic), with copyright and credit pages as 10 and 11pt Regular. The cover and back text features the author's name in Puritan by Deiter Steffmann www.steffmann.de and the Leaf in a Gale book title text is using Porcelain by Eduardo Recife www.misprintedtype.com . The cat is called putu.